Haly Home Comfort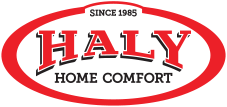 Booth: 835
57 Lancaster Avenue
We know there are lots of fuel companies to choose from, but we pride ourselves on catering to family and community needs. We're a family business; we live where you live, we raise our kids here, and we strive to have a positive impact on the environment. Our community is your community!

Our Haly Home Comfort Constant Comfort Guarantee is the first of its kind in our industry and something that we take very seriously. We will do everything in our power to keep all of our customers comfortable all year round. That means that in the winter it is our top priority to keep all of our automatic delivery customers warm all season long.

Plus, a friend of yours is a friend of ours, so when you refer a friend to one of our companies and he or she signs up for automatic delivery, you will both get a $100 credit on your account. Tell more than one friend, to see your $100 credits stack up. It's a win-win deal.