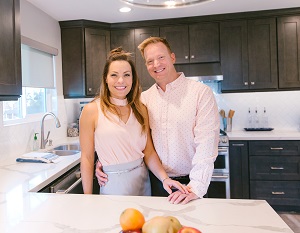 Eric & Lindsey Bennett of HGTV's Desert Flippers
Eric and Lindsey Bennett have been transforming outdated Palm Springs, California properties for more than a decade. Originally from the Midwest, the property power couple moved across the country in 2006 to pursue their dream of building a real estate empire. They started with nothing and have built their business together, in just 10 short years, selling real estate, originating loans, acquiring rental property and flipping over a 100 homes.
Eric and Lindsey want to share their success by educating and inspiring others to get in the game of real estate investing and renovation. You may know them from the hit HGTV's DESERT FLIPPERS. Since 2015 the property power couple have been hosts of their own HGTV show. Eric, a savvy real estate entrepreneur and financier; Lindsey, a construction planner, manager and designer. In each episode Eric and Lindsey bravely defy triple-digit desert heat and renovate dilapidated homes while raising three rambunctious small children.
Pair Eric's flirtatious humor with Lindsey's adoring girl-next-door charm and there's rarely a dull moment. Juggling diapers, demo's, date night and everything in between, this humble duo keep their hands and hearts full. It's rare to find a dynamic duo like Lindsey and Eric willing to take the time to educate and share the ins and outs of the real estate business.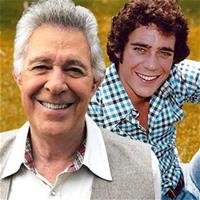 BARRY WILLIAMS
Born and raised in Southern California, Barry William Blenkhorn began his career as an 11 year old studying acting and music with other young artists. With his first job on television's RUN FOR YOUR LIFE, Barry became Barry Williams and launched himself into a diversified and distinguished show business career that has spanned over 5 decades. Early television credits include DRAGNET, The FBI, IT TAKES A THIEF, GOMER PYLE USMC, THE MOD SQUAD, MARCUS WELBY, MD and MISSION IMPOSSIBLE. Then came THE BRADY BUNCH where he was cast to become America's most reliable big brother, Greg. THE BRADY BUNCH has enjoyed unprecedented success spawning subsequent sequels, movies, a cartoon show, variety show called The BRADY BUNCH HOUR, specials and even another series titled simply THE BRADY'S. Barry was the recipient of the Young Artist Foundation Former Child Star LIFETIME ACHIEVEMENT AWARD in 1989.
Immediately following his years with THE BRADY BUNCH, Barry moved to New York and won the title role in the Broadway musical PIPPIN. He created the role for the first National Touring Company and returned to New York to join the cast on Broadway.

This launched an extensive career in Musical Theatre with over 85 productions including Broadway, Broadway National Tours, Regional Theatre and Performing Arts Centers. Starring roles include; ROMANCE/ROMANCE, CITY OF ANGELS, THE MUSIC MAN, SOUND OF MUSIC, OKLAHOMA!, GREASE, WEST SIDE STORY and many others.

Barry wrote his autobiography, GROWING UP BRADY: I WAS A TEENAGE GREG which stayed on the New York Times bestseller list for more than six months. Williams then Executive Produced GROWING UP BRADY into a two our TV movie for NBC. He hosted THE BARRY WILLIAMS SHOW on radio for 5 years as a DJ on satellites' SiriusXM. Barry has recorded several CD's and performed all over the world. In 2013 he starred in the Syfy made for television movie BIGFOOT with Danny Bonaduce.
Barry produced and wrote a live variety musical show; 70s MUSIC CELEBRATION! STARRING BARRY WILLIAMS which ran for 6 years in Branson, MO. Williams also wrote, co-produced and starred in 3 USO Christmas Shows, touring the world and bringing USA entertainment to our troops overseas.
Currently Mr. Williams resides in Branson, MO with his wife Tina. He continues to Sing/Act/Perform with no early retirement plans. He is a member of the musical trio BARRY WILLIAMS and THE TRAVELIERS.
www.barrywilliamsofficial.com
Facebook @BarryWilliamsOfficial
Twitter @MrBarryWilliams
Instagram TheBarryWIlliams