2020 SPEAKERS & CELEBRITIES COMING SOON
TAKE A LOOK AT OUR 2019 GUEST SPEAKERS BELOW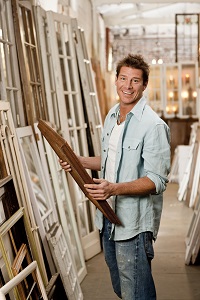 TY PENNINGTON
Ty Pennington first garnered national attention as the quirky and creative carpenter on the groundbreaking home improvement series
Trading Spaces
. Later as host of
Extreme Makeover: Home Edition
, Pennington helped transform the lives of hundreds, while inspiring millions more around the world to volunteer their time to help others. The show was consistently rated among television's Top 20 programs and won two Emmys® for Outstanding Reality Program.
He also hosted Food Network's series "American Diner Revival," a hit show that showcased both design and food in an emotionally charged format. Ty traveled the country breathing new life into the heart and soul of many communities, the local diner.
Pennington has been recognized as a leader in the field of volunteerism for his work on Extreme Makeover: Home Edition and his role with Abode Shelters, an international charity that provides sustainable, humane housing for homeless and impoverished city dwellers.
In addition to his extensive television work, Ty is recognized for his design expertise and style. He launched the Ty Pennington Impressions fabric line with Westminster Fabrics. A flooring line, The Ty Pennington Collection, was featured by Lumber Liquidators. Pennington's outdoor and holiday décor products, Ty Pennington Style, were one of the most popular brands at Sears for 16 consecutive years.
Pennington's last book, How Good Design Can Change Your Life (Simon & Schuster) is an intimate look at Ty's design inspirations with décor advice and tips. It followed his New York Times bestseller Ty's Tricks (Hyperion), which is part reference and part behind-the-scenes in Ty's own home, which he completely remodeled himself.
In 2018, Ty reunited with the cast of Trading Spaces for a new season of episodes on TLC. Instantly, the show became the #1 show on the network, and the #2 show on cable airing on Saturday nights.
He currently resides in Florida, New York, and Los Angeles; in homes he either built or remodeled himself.

Appearing Live at the Philly Home + Garden Show
Saturday, February 16, 2019 at 11:00 AM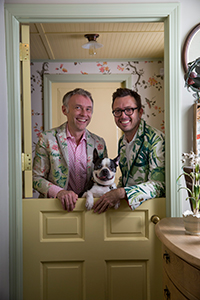 Madcap Cottage Bio
John Loecke and Jason Oliver Nixon are the duo behind North Carolina- and New York-based interior design firm Madcap Cottage. Known for their passion for prints and pattern, the Madcap gents—along with their pound-rescue posse, Jasper, Weenie, and Amy Petunia—scour the world for eclectic finds that capture their unique viewpoint. Imagine a British country house that pairs centuries-old antiques and a spirited dash of Chinoiserie chic with a splash of Morocco-meets-India élan. Shake, stir, then pour.
"If you are looking for beige and boring, bark up someone else's tree," quips Jason. "We live and breathe 'whimsy,' but our projects are bespoke, sophisticated, and perfectly catered to our clients' sensibility and 'brand.' They are also spectacularly fun—and always livable. John and I have dogs and nieces and nephews—we get it." Standout Madcap Cottage interiors include a jewel-hued loft in Manhattan's SoHo neighborhood; a color-rich, playful beach house in Southampton, New York; a sophisticated 1920s-era bungalow in Des Moines, Iowa; and a historic shotgun-style cottage in New Orleans' French Quarter.
The Madcap Cottage gents run their firm—an ever-changing design laboratory—from the heart of High Point, North Carolina, the hub for American decorative arts. The Madcaps' latest book, "Prints Charming: How to Create Absolutely Beautiful Interiors with Prints & Patterns," will debut from Abrams in October 2017. The Madcap Cottage gents' vintage and antique selections can be found at One Kings Lane and at 1stDibs.com, and their licensed product collections are available through Robert Allen @Home, Howard Elliott, Smith + Noble, and HSN.
Follow the Madcap Cottage adventures on Instagram and Facebook, and read their design blog, Demystifying Design, recently named by Domino magazine as one of the Top 100 Design Blogs, at www.madcapcottage.com.

Appearing Friday, February 15th at 6:00 PM and Saturday, February 16th at 1:00 PM and 4:00 PM

Join Ballard Designs for a book signing with John Loecke & Jason Oliver Nixon of Madcap Cottage, located in the King Of Prussia Mall between Macy's and Bloomingdale's
Saturday, February 16, 2019 6-8 PM
Kelly Sakmar, Owner of ClutterLess, can help you find peace, time and your keys. Frustration and chaos do need not be part of your daily routine! As a Professional Organizer, Kelly adores helping families create homes with less clutter and more time to live their best lives. Her process involves meeting you where you are, without judgement, and guiding you to where you want to be. She is a member of the National Association of Productivity and Organizing Professionals and is a certified Residential Organizing Specialist.


Kelly Sakmar
ClutterLess
kelly@clutter-less.com
www.clutter-less.com
484-854-3886

Erin Covolesky is the owner of Amplo Organizing and brings decades of experience and perspective from her roles as a professional organizer, project manager, business consultant and busy working mom. She has encountered the many roadblocks that challenge our ability to get and stay organized for herself and can relate to her client's organizing needs in a very real and personal way. She has built her business with these experiences in mind and now brings to her customers some of the same solutions and creative concepts that helped her to maintain balance in her own life. She has learned that the solutions and systems that work for our lives need to be simple and easy to maintain. They need to work within each of our own unique styles of living, working and learning to be completely effective.
Amplo in Latin means to amplify, to exalt, or to lift, and at the core of Erin's mission is the desire to lift others and amplify their sense of peace, free time and focus. Erin's clients range from busy working moms to retirees getting ready for the next chapter of their lives. Regardless of the audience, she recognizes that, by clearing the clutter and laying the foundation for simple and sustainable organization, she will help her clients to amplify their journeys towards happier, more organized and more efficient lifestyles.


Erin Covolesky
Amplo Organizing
erin.covolesky@amploorganizing.com
www.amploorganizing.com
484-574-5672
Naomi Cook
Open Doors Organizing
Devon, PA
Naomi@OpenDoorsOrganizing.com
http://www.opendoorsorganizing.com/
215-760-7401
Darla DeMorrow
HeartWork Organizing, llc
Darla@HeartWorkOrg.com
www.HeartWorkOrg.com
856-905-3202 (preferred) | 610-688-8595
Annette Reyman
All Right Organizing | ALL Right Moves
105 Rutgers Ave Unit 183
Swarthmore, PA 19081
annette@allrightmoves.com
www.allrightmoves.com
610-213-9559